Tenkara Fly-Tying Kit (UPGRADED)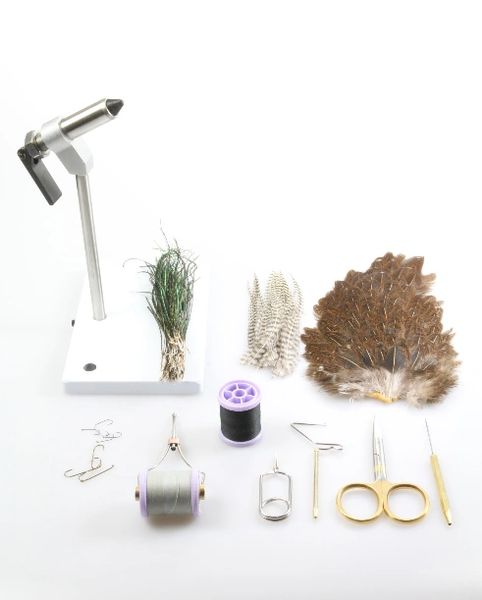 Tenkara Fly-Tying Kit (UPGRADED)
Not available in Europe With a vise made in Loveland, Colorado, this fly-tying kit has all you need to tie a variety of tenkara flies with a vise that is well-built and long-lasting. . .
We want to show you that fly-tying is actually simple. In addition to a collection of videos and other resources we're putting together to get you into fly-tying, here's a kit that has everything you need and nothing you don't.
Kit contents:
1 - Pedestal-style non-rotary vise by Peak Fishing, made in the USA
2 - Hen soft hackle
3 - Rooster neck hackle
4 - Peacock herl
5 - 25 hooks, size 12, barbless, by Allen Fly Fishing
6 - 25 hooks, size 8, barbed, by Allen Fly Fishing
7 - 2 spools of heavy polyester thread, gray and black
8 - Set of tools by Terra containing: bobbin holder, bodkin, hackle pliers, scissors, whip-finisher
9 - Fly-tying booklet by Tenkara USA

In addition to the kit, we're making available a wide collection of resources for you to learn more about fly-tying.
RESOURCES
Tenkara Fly-Tying Videos
1% of the sale value of this item will be donated to conservation efforts.
Reviews