St.Croix Rod Mojo trout & Lamson Remix Reel Combo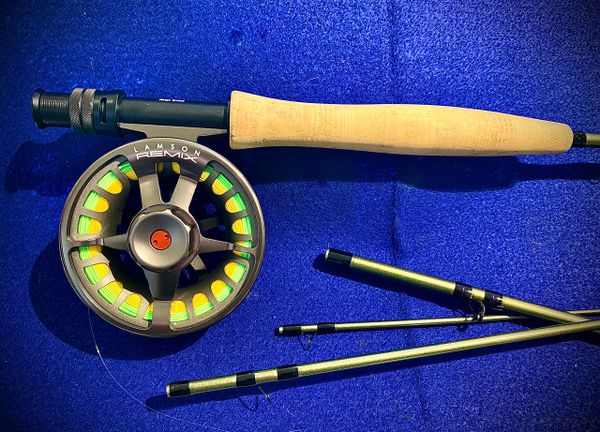 St.Croix Rod Mojo trout & Lamson Remix Reel Combo
ROD Extremely smooth casting, versatile fly rods that are ideal for beginners and intermediate anglers alike. The all-new Mojo Trout features premium, high-modulus SCIII graphite across the 11 two- and four-piece models. Covering the all-important 2-7 trout-fishing line weights, these fly rods cover all trout-specific fly fishing applications without breaking the bank.
MOJO TROUT® RODS feature:
Premium, high-modulus SCIII graphite.
Slim-profile ferrules.
Kigan Master Hand 3D stripper guides with aluminum-oxide rings and black frames.
Sea Guide® snake guides with black PVD coating for extra hardness and increased smoothness.
Uplocking, machined-aluminum reel seat.
Premium-grade cork handle.
Kigan hook-keeper.
Two coats of Flex-Coat slow cure finish.
Includes cloth rod sack.
5-year warranty backed by St. Croix Superstar Service.
Smooth, versatile, moderate-fast action ideally suited for trout.
Designed in Park Falls and handcrafted
Lamson Remix reel
Change agent. A heavy-duty version of the Remix, this HD reel has a full-cage design to capture line without failure. This makes a great option for an entry-level switch, Spey, boat or all-around, ready-for-anything reel. A sexy fusion between the free-form structures of a cast spool and the mechanical integrity of a CNC-machined case, Remix is the ultimate hybrid. Machined in Idaho from bar-stock aluminum, the case delivers maximum structural rigidity and durability all wrapped in a harder, brighter finish. The spool (compatible with Liquid), is pressure-cast with radiused compound curves, near zero-radius inside corners, and a precise fit and finish. It has a U-shape arbor and narrow format to aid in line control. Remix crossbreeds the best of CNC-machining and pressure-cast technologies to deliver an unprecedented level of quality for about $200. In addition to the US-made case, all critical drag components are expertly CNC-machined in the US.
Available in Smoke.
Reviews