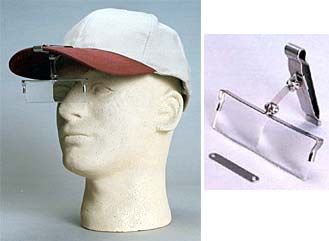 Magnifier Hat Eyes
Hat Eyes are feather-lite, optical-grade acrylic lenses, great in educational/scientific studies and on-site/on-lake field use by anglers, technicians, machinists, contractors, crafting, artists, handymen, and gunsmiths. Bring your work closer into focus than regular magnifying glasses with a modern, open design that assures unimpaired vision. The quality of the MagEyes lens easily distinguishes it from others. The costly precision-controlled manufacturing process produces clear optic-grade acrylic dual-lenses, free of distortion or irregularities. Moves with the line of focus with a wide field of 3D vision and adjustable lens angle - the lens frame swings up and down, or can be locked in place. The lens swings out of the way when not in use and fits most cap or hat brims at least 3" in length. Replacing the standard extension with the included extra long extension allows the user to adjust the focal length of HatEyes. Greater power available by simply slipping out one lens power and putting in a higher power.

Features Include:
Very light weight
Snap-out interchangeable lenses
Perfect for travel
4 magnifications available
Stainless steel construction
Perfect for the tackle box, sewing kit or first aid kit
MagEyes Limited Warranty
Doctor recommended:
2.25X = working distance approximately 7"-10"
2.75X = working distance approximately 4"-7"
Reviews