Kern River Sierra Topo Map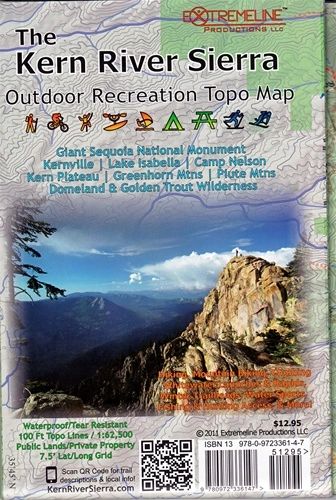 Kern River Sierra Topo Map
Kern River Sierra Topo Map

The Kern River Sierra, the epicenter of outdoor adventure, is now on the map!
The map features the hiking and mountain biking trails, rock climbing spots, whitwater launches and named rapids, giant sequoia groves, winter trailheads, water sports, fishing and hunting access, and other recreational opportunities in the Kern River Valley and Southern Sierra region.

Ranging from 10,000 feet to 2,000 feet in elevation, the rugged and diverse land of the Kern River Sierra encompasses the Giant Sequoia National Monument, Camp Nelson, Black Rock Station and the Kern Plateau, Kernville, Lake Isabella, Keyesville, Greenhorn Mountains, Piute Mountains and much of the Domeland and Golden Trout Wilderness.
Reviews