Forks of the Kern Clinic for 2019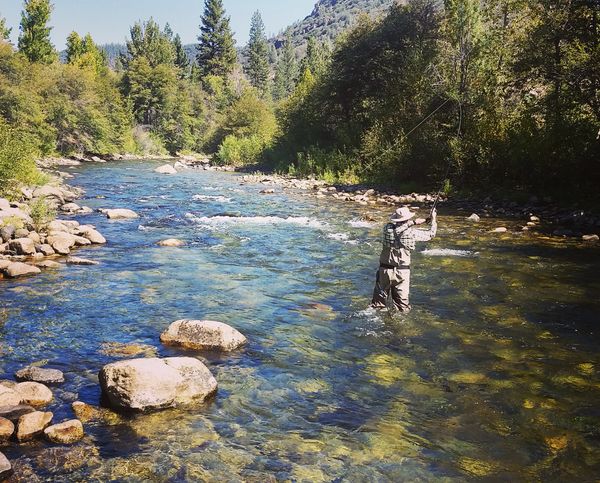 Forks of the Kern Clinic for 2019
FORKS OF THE KERN CLINIC
    This unique Extended Day (12-hours) Forks of the Kern Clinic gives the student a hands-on fly fishing experience on a world class native trout/special regulations area of the North Fork Kern River located in the majestic Golden Trout Wilderness.
The student will learn:
1. Dry fly techniques and the casts and mends to use for effective drag free drifts;
2. Various techniques of nymphing including, Czech nymphing and fishing with an indicator;
3. Rigging, casting, mending and fishing;
4. Streamer fly fishing and effective casts and techniques;
5. Understanding and identifying the local entomology and picking the right flies to use;
6. Angler positioning and technique while fishing upstream, downstream and/or across stream;
7. Etiquette;
8. Proper gear and equipment;
9. Backpacking essentials and safety, and
10. Wading safety.
Students must be in good shape for this trip and be able to hike 4-5 miles. From the Forks of the Kern trail-head to the Forks is approximately 2 miles and a 1500 ft decent. Students will have to hike up at the end of the day.
MANDATORY GEAR
1. BACKPACK- large enough to carry your gear and lunch (lunch is included, but you will be required to pack it in)
2. WATER PURIFIER - bottle & filter
3. FLY FISHING GEAR – If possible, please bring what you normally fish with on the Kern River. This includes 5 or 6 weight rod/reel, wading boots, wading staff, net, etc.  Waders are optional. If you do not have equipment, please notify us by 3 days prior your trip via guy@kernriverflyfishing.com and we will provide it for you.
4. California Fishing License – Obtain your CA Fishing License PRIOR to your trip. 
PROVIDED
1. Breakfast items, fresh brewed coffee and juice upon arrival at Guy Jeans School of Fly Fishing, 11301 Kernville Road, Kernville, California 93238.
2. Lunch (Please notify us of any dietary restrictions via guy@kernriverflyfishing.com)
3. Snack items throughout the day
4. Flies (Nymphs, Dries, Streamers, etc.)
5. Transportation – You can drive and follow or leave your vehicle safely parked behind the building.
This clinic is approximately 12 hours long. We will meet at the Kern River Fly Shop at 6:00 a.m. and are expected to arrive back in Kernville around 6:00 p.m.
* Fly Fishers International Certified Casting Instructor, Guy Jeans, is the only fly fishing outfitter and instructor permitted by the USFS to teach and guide fly fishing anglers in this section of the Golden Trout Wilderness.
Kern River Fly Fishing, Inc. is a permitted catch and release fly fishing outfitter with the Sequoia National Forest and operates on a nondiscriminatory basis. We offer special service for disabled/handicapped clients and wounded veterans.  California Fish and Wildlife - Licensed, Bonded and Insured.
Reviews