10-DAY FLY FISHING GUIDE TRAINING PROGRAM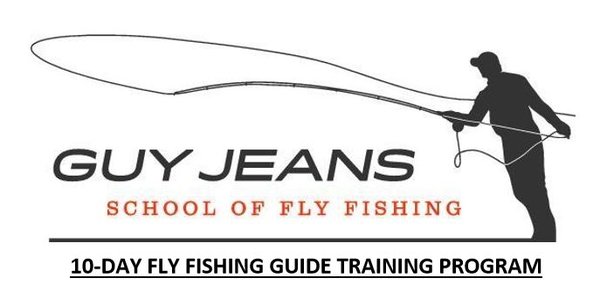 10-DAY FLY FISHING GUIDE TRAINING PROGRAM

10-DAY FLY FISHING GUIDE TRAINING PROGRAM
For 16 years, Guy Jeans has held the title of fly fishing outfitter, business owner of Kern River Fly Shop/Guide Service, Fly Fishers International Certified Casting Instructor and oversees the Guy Jeans School of Fly Fishing. Being exposed to many facets of the fly-fishing world has provided Mr. Jeans with the opportunity to experience periods of failure, as well as success, while discovering what it takes to continue the pursuit of a successful fly fishing guide/outfitter.
After years of firsthand experience and research, Mr. Jeans is pleased to introduce the new 10-DAY FLY FISHING GUIDE TRAINING PROGRAM. This 10-day program has been created and designed for those who desire the role of a professional guide in the recreational business of fly fishing or simply have an interest in upgrading your skill set.Aside from being taught by your Presiding Instructor, Guy Jeans, you will receive the expert knowledge of guest instructors in various arenas of fly fishing and guiding.
Being a great angler and loving the outdoors is a given when becoming a fly-fishing guide. The question is: Do you have the desire to pass along your knowledge of fly-fishing, the patience to teach the unteachable to the willing, and the ear to compassionately listen? If so, we look forward to providing you with the opportunity to become what many consider an exceptional career.
COURSE OUTLINE
- Cost: $4,295.00
- Wednesday, October 25, 2017 - Friday, November 3, 2017
- Lunches provided
- Dinner provided 1st & last day of instruction
- Morning Instruction: 8:00 a.m. – 12:00 p.m.
- Break/Lunch: 12:00 p.m. – 1:00 p.m.
- Afternoon Instruction: 1:00 p.m. – 5:00 p.m.
Day One (10.25.17):
Meet for Dinner at 6:00 p.m.
Instructor and Student Introduction
Syllabus provided and reviewed
Day Two (10.26.17):
Casting, Wading and Fishing
Day Three (10.27.17):
Entomology, Casting Faults and Fixes
Day Four (10.28.17):
First Aid, Mending and Nymphing Techniques
Day Five (10.29.17):
Freestone Techniques, Tenkara
Day Six (10.30.17):
Guiding and Fishing Techniques, Czech, Polish, French, Spanish Nymphing
Day Seven (10.31.17):
Casting Certification Instructor Preparation and Guiding Practice
Day Eight (11.01.17):
Warm Water and Salt Water Fly Fishing Techniques
Day Nine (11.02.17):
Teaching: How to Pass on Your Knowledge of Fly Fishing
Day Ten (11.03.17):
Drifting and Rowing Fishing Strategies
Closing Ceremony/Graduation, Dinner and Evening Festivities
Final Evaluation and Summary
REQUIRED
- Clothing (check weather conditions)
- Waders, Wading Boots, Protective Hat, Polarized Sunglasses, Sunscreen
- Fly Rod & Reel
- Various Flies
- Fly Tying Vise
- Vest or Pack for gear
- Text: Whitlock's Guide to Aquatic Trout Foods
PREREQUISITES
- Basic level of fly fishing
- Good physical condition
- Competently wade in various types of moving water
- Accurately false cast to 50ft.
- Tie a Clinch Knot, Surgeons Knot and Perfection Loop in under 30 seconds each
- (Suggested, but not required) Guy Jeans' Intermediate Fly Fishing Class
Reviews